Revisa el cartel oficial del Primavera Sound 2015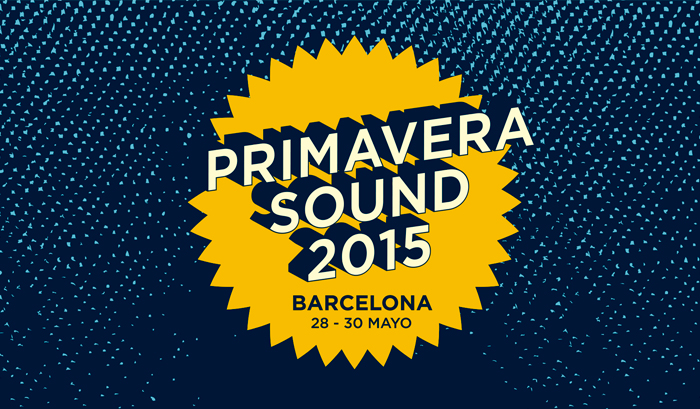 Uno de los festivales de música alternativa más importantes del mundo, Primavera Sound, ha dado a conocer el cartel íntegro de las bandas que serán parte de su edición 2015.
Después de confirmar a finales del 2014 la participación de The Strokes y Ride mediante lonas gigantes ubicadas en puntos estratégicos de Barcelona. El día de hoy, la organización del festival ha dado a conocer el cartel íntegro de su decimoquinto aniversario mediante una aplicación/video juego para dispositivos móviles llamada "Line-App"
Además de las bandas ya anunciadas, las cabezas de cartel para esta edición aniversario serán: The Black Keys, Antony and the Johnsons, Underworld, Patti Smith, Interpol, Belle and Sebastian, The Replacements. Al igual que actos destacados como: James Blake, Alt-J, Caribou, Jose Gonzalez,Run The Jewels y más.
Primavera Sound se llevará a cabo del 28 al 30 de mayo del 2015 en el Parc del Forum, Barcelona. El abono para todos los días del festival ya está a la venta a un valor de 175 € hasta el 3 de febrero. A partir del 4 de febrero y hasta el 4 de mayo su precio será de 185 € y del 5 de mayo hasta el inicio del festival su precio será de 195 €. Para comprar tu abono ingresa a www.primaverasound.com
Revisa a continuación el listado completo de bandas que participarán en el Primavera Sound 2015: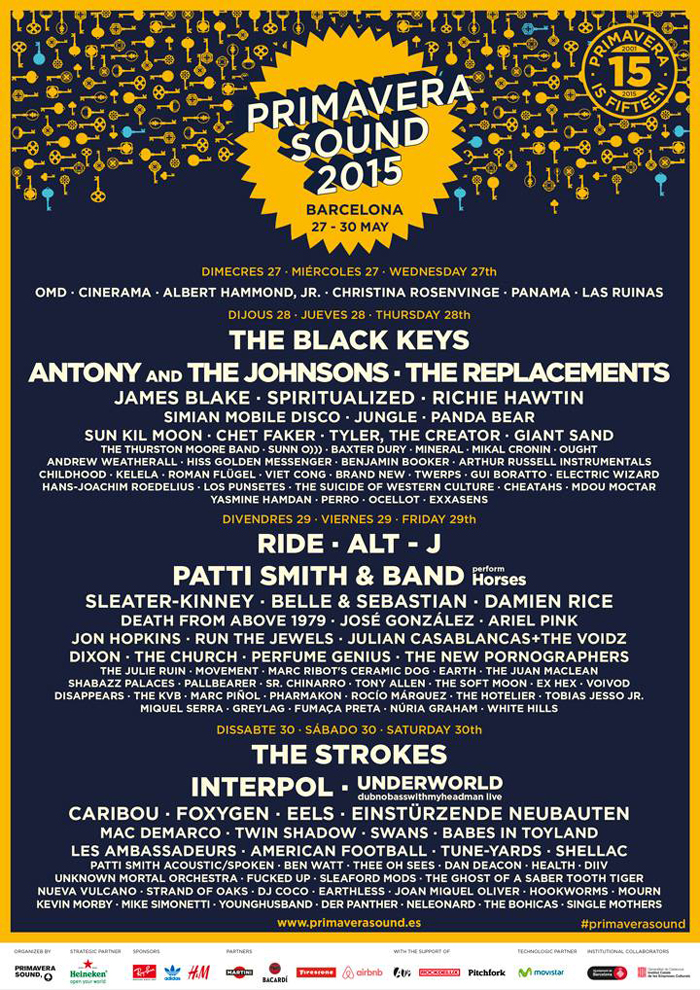 CARTEL PRIMAVERA SOUND 2015
LUNES 25
Sala Apolo: Iceage · Umberto & Antoni Maiovvi
MARTES 26
Sala Apolo: Boreals · D.D Dumbo · Ibeyi · Ratking
MIÉRCOLES 27
Parc del Fòrum: Albert Hammond, Jr, · Christina Rosenvinge · Cinerama · Las Ruinas · OMD · Panama
Sala Apolo: Har Mar Superstar (dj set) · The Juan MacLean · Nancy Whang (dj set) · Viet Cong · The Juan McLean
JUEVES 28
Parc del Fòrum: Andrew Weatherall · Antony and the Johnsons · Arthur Russell Instrumentals · Baxter Dury · Benjamin Booker · The Black Keys · Brand New · Cheatahs · Chet Faker · Childhood · Electric Wizard · Exxasens · Giant Sand · Gui Boratto · Hans-Joachim Roedelius · Hiss Golden Messenger · James Blake · JUNGLE · Kelela · Los Punsetes · Mdou Moctar · Mikal Cronin · Mineral · Ocellot · Ought · Panda Bear · Perro · The Replacements · Richie Hawtin · Roman Flügel · Simian Mobile Disco · Spiritualized · The Suicide Of Western Culture · Sun Kil Moon · Sunn O))) · The Thurston Moore Band · Twerps · Tyler, The Creator · Viet Cong · Yasmine Hamdan
VIERNES 29
Parc del Fòrum: alt-J · Ariel Pink · Belle & Sebastian · The Church · Damien Rice · Death From Above 1979 · Disappears · Dixon · Earth · Ex Hex · Fumaça Preta · Greylag · The Hotelier · Jon Hopkins · José González · The Juan MacLean · Julian Casablancas+The Voidz · The Julie Ruin · The KVB · Marc Piñol · Marc Ribot's Ceramic Dog · Miquel Serra · Movement · The New Pornographers · Núria Graham · Pallbearer · Patti Smith & Band perform Horses · Perfume Genius · Pharmakon · Ride · Rocío Márquez · Run The Jewels · Shabazz Palaces · Sleater-Kinney · The Soft Moon · Sr. Chinarro · Tobias Jesso Jr. · Tony Allen · Voivod · White Hills
Els Vermuts de Primavera al Parc amb Martini: Cheatahs · Hiss Golden Messenger · Les Sueques · The Zephyr Bones
SÁBADO 30
Parc del Fòrum: American Football · Babes In Toyland · Ben Watt · The Bohicas · Caribou · Dj Coco · Dan Deacon · Der Panther · DIIV · Earthless · Eels · Einstürzende Neubauten · Foxygen · Fucked Up · The Ghost of a Saber Tooth Tiger · HEALTH · Hookworms · Interpol · Joan Miquel Oliver · Kevin Morby · Les Ambassadeurs · Mac DeMarco · Mike Simonetti · Mourn · Neleonard · Nueva Vulcano · Patti Smith acoustic/spoken · Shellac · Single Mothers · Sleaford Mods · Strand Of Oaks · The Strokes · Swans · Thee Oh Sees · tUnE-yArDs · Twin Shadow · Underworld dubnobasswithmyheadman live · Unknown Mortal Orchestra · Younghusband
Els Vermuts de Primavera al Parc amb Martini: Ex Hex · Germà Aire · The Hotelier · Jessica & The Fletchers · Lost Tapes · Unknown Mortal Orchestra
DOMINGO 31
Els Vermuts de Primavera al Parc amb Martini: Ferran Palau · The Ghost of a Saber Tooth Tiger · Gúdar · Jambinai · Single Mothers · Soak
Sala Apolo: Dave P · Fucked Up · Jambinai · Thee Oh Sees · The Saurs
La [2] de Apolo / BCore Showcase 25é aniversari: Dulce Pájara De Juventud · Salvaje Montoya
BARTS: My Brightest Diamond · Núria Graham · Soak · Torres